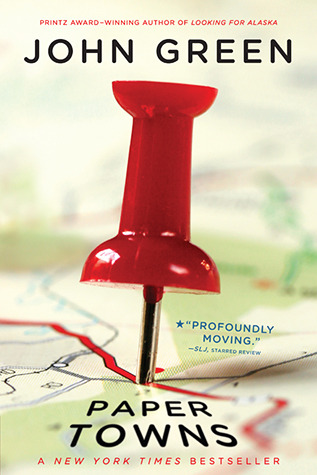 Paper Towns by John Green
Publisher: Speak
Publication Date: September 22, 2009 (reprint)
Genre: YA Contemporary
Pages: 305
Source: Borrowed from friend
First Line: "The way I figure it, everyone gets a miracle."
Find on Goodreads
Goodreads Description
Quentin Jacobsen has spent a lifetime loving the magnificently adventurous Margo Roth Spiegelman from afar. So when she cracks open a window and climbs into his life—dressed like a ninja and summoning him for an ingenious campaign of revenge—he follows. After their all-nighter ends, and a new day breaks, Q arrives at school to discover that Margo, always an enigma, has now become a mystery. But Q soon learns that there are clues—and they're for him. Urged down a disconnected path, the closer he gets, the less Q sees the girl he thought he knew...
Going into this book, I didn't know too much about it besides the basics. This is surprising considering the movie just came out and everyone was talking about it. Before Paper Towns, I read two other books by John Green, The Fault in Our Stars and Looking for Alaska. The two were so different so I wasn't sure what to expect from this one.
John Green's way of writing makes everything believable. All the characters were unique but still seemed like real people.
I felt this was especially true when we see how the different characters saw Margo Roth Spiegelman.
Each character's response to the
disappearance
of Margo was genuine. Quentin, finally coming the closest to Margo since their childhood, is the most invested in finding her no matter how he might find her. In order to help, Q's friends do what they can but aren't as invested as Q. This was another way the characters were more believable. When Margo disappeared, they didn't just drop everything and go searching for her. They continued living their lives and when they finally figured out a new clue or had the time, they went look, and I liked that
Paper Towns
was fun and entertaining while still having serious, thought provoking moments. While Quentin is trying to figure out why Margo left and where she might have gone to, he takes the time to think about who Margo really was
compared
to how he and everyone else say her.
I was disappointed by the end. There was so much buildup that I felt like I was running full speed ahead. When I got to that final section it was like I ran head first into a wall marked the end. The story just stopped and it definitely felt like there should have been more. However, I appreciate that the story wasn't nicely wrapped up since life keeps going and there is never a definite ending. While I had some mixed feelings about this book, I still enjoyed it
Favorite Quotes
"...Humans lack good mirrors. It so hard for anyone to show us how we look, and hard for us to show anyone how we feel."
"What a treacherous thing it is to believe that a person is more than a person."
"As much as life can suck, it always beats the alternative."
"I imagine it is hard to go back once you've felt the continents in your palm."